Pony Saddle for Sale
Pony Saddle for Sale
Brown Nick Dolman NRD 15" W GP.
Good condition saddle made by Kaye Humphries.
Made for 12h3 Welsh section B pony with a medium wide flat back.
Would suit a smallish child.
Lovely saddle leather top with felt underneath.
£395
Please contact
Emilie Dallyn emiliedallyn@gmail.com
Mercedes 814 3 horse lorry
Mercedes 814 3 horse lorry
M Reg taxed and plated until October 2018. Small living area. This is not a glamorous Truck in fact it's rather tatty but super reliable sailed through its plate yet again this year recently had all new tires new master and slave cylinder on the clutch regularly serviced and in regular use. It will take three smaller horses or ponies or two large horses easily no speed limiter so very speedy plated at five tonnes would suit somebody looking for a reliable cheap runabout hunting wagon or livestock carrier. Only for sale as larger Lorry needed now
£1750.
07817 012192
HORSEBOX FOR SALE
HORSEBOX FOR SALE
George Smith build Renault Mascot Challenger 2 with living.
First reg; September 2006 – non HGV – under 16000 miles on the clock. Owned from new with full service history.
New Taco & plated in July 2017.
£15000 to a good home. Seen near Pewsey.
Gentlemen's Hunt Coat
Hunt Coat
Very good condition Men's Hunt Coat by Lyford. Size 40/41
Rarely worn.
Good weight to keep you warm and dry.
Sleeves have internal elasticated cuffs.
2 Poachers Pockets, 2 internal Breast Pockets, and 1 external pocket.
£150, but will consider offers. If buyer unable to collect, post and packing: £10
Please call or text Mark on 07790 493356
"Sulamani The Late" Shares for Sale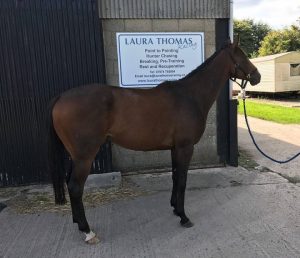 Laura Thomas Racing has three shares remaining in her syndicate with the very exciting young horse "Sulamani The Late". Bought recently and unexposed in the point to point field this promising 5 year old son of Sulamani has had 8 starts over hurdles, finishing placed in four of these runs. He is seen as an absolute certainty to win his maiden before progressing up the point to point ranks. The plan will be to qualify him with the Vine and Craven and have a crack at winning the areas young horse award! With lots of yard visits, schooling sessions and picnics at the races planned this is sure to be a fun as well as a successful syndicate. Please contact Laura at
laura@laurathomasracing.co.uk
or 07974 792804 for further information