Vine & Craven Hunt Supporters Club

Start of Season Dinner

At Wormstall, Wickham, RG20 8HB

By kind invitation of Mr and Mrs C Tett

On Friday 25th November 2016, at 7.30pm

After dinner speaker

Rory Knight Bruce

Highly Entertaining

"Countryman and Journalist"

Tickets: £25.00 each

to include dinner, beer and wine

Contact Daphne Barr-Hamilton

01672 520002

daphnebh@btconnect.com
Many many congratulation go to our former Master Angus Marshall and his wife Sonia on the birth of their beautiful daughter Zara. Everyone involved with the hunt were absolutely thrilled to hear their exciting news and look forward to meeting her.
———————–
Brand new Vine & Craven packs of 10 note-lets
for just £5. two different photographs take by Emma Welling. 
Perfect way to write your thank you's, so much nicer than an email.     Available through me, Joanna McCall Email: joanna@mccalldesign.co.uk or at meets etc.
———————–
If you are looking for an original present  a map of the Vine and Craven Hunt (see below) or a print of the Craven Hunt country (for details go to the Supporters Club section) would be an ideal choice.
STOP PRESS   Exciting Announcement.
You will be able to view for the first time  our fabulous  hand-drawn map of the Vine and Craven Hunt country drawn by the clever and talented
Kirsty Adams. A must have present for everyone in the hunt.This beautiful map was  inspired by the 16th and 17th Century maps of John Speed
and Abraham Ortelius. It will be available for you to order at the Hunt Supporters' Club AGM and Start of Season Supper on Friday 27th Nov at a
cost of £55, which includes the map mounted and ready for you to frame. All proceeds go to the Vine and Craven Hunt.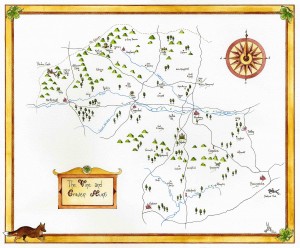 (This is  very low resolution  )
————————————
Our very own Emma Welling has a website www.spindletreephotography.co.uk  selling her wonderful
photographs. For more information see her advertisement in the 'Classified' section.