Welcome to The Vine and Craven Hunt Website
Up & Coming Events
The Vine and Craven Hunt Ball Saturday 20th January 2018
Pitt Hall Barn, Ramsdell RG26 5RJ
This promises to be a fantastic night in our new venue with champagne and canapés reception, two course meal and dancing into the night with a live band.
Tickets are £90 per ticket and after diner tickets are also available at £25.
Carriages 1 am
Contact Antonia Roskill 07795 423 401 for more details
Hound Sponsorships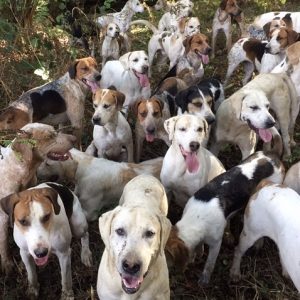 All 41 1/2 couple V&C hounds are now very happily sponsored. Thank you so much to everyone for your generous support with this fund-raiser. Let's hope your chosen hounds do very well for you this season. The first hound awards will be presented at the end of the month.
This season we will be running the monthly hound awards, judged by Dan Mellor MFH, the £25 draw and the Junior Hunt Club 'Know Your Hound Award' to be awarded on the last Saturday of each month. Good Luck to everyone with the chance of winning a rosette or £25
A huge thank you for supporting this important fund-raiser. We all enjoy our hunting for many reasons but we would not be able to continue without our hounds.
A message from Emma Welling
Save the Dates
Vine and Craven Point to Point - 11th February 2018 At BARBURY CASTLE
Secretary:Karen Hobbs 07824 443321
KarenHobbs@sportingagenda.co.uk
Buy etickets before Christmas and pay just £8.00 per ticket
Buy etickets after Christmas and a week before the event for £10.00 per ticket and receive a free racecard
---
New Arrivals
News update; Puppies are now 8 weeks old and all doing well. We will be soon looking for new puppy walking families. Puppy walking is hugely important to a pups development, they get a chance to see the world socialise with people and other pets. And bring a huge amount of fun (mischief) to the their walkers. Exciting news the next generation has arrived with two litters of puppies this week.
Spindletree Photography
Our very own Emma Welling has a website www.spindletreephotography.co.uk selling her wonderful photographs.
For more information see her advertisement in the 'Classified' section.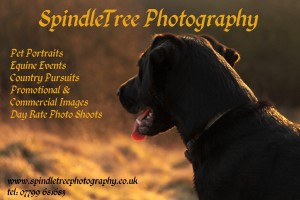 Vine & Craven Note-lets - packs of 10
Vine & Craven packs of 10 note-lets for just £5. two different photographs take by Emma Welling.
Perfect way to write your thank you's, so much nicer than an email.
Available through Joanna McCall Email: joanna@mccalldesign.co.uk or at meets etc.
New Mastership
We are pleased to welcome Zoe Donald and Christina Dunlop to the Mastership for the 2017- 2018 season. The Vine and Craven two new master's in the shape of Christina Dunlop wife of Harry Dunlop flat trainer and Zoe Donald who is married to Bloodstock agent Alistair Donald. Both well known on the hunting field and both set up the Junior Hunt club now boasting over 40 members. We wish them every success for the forth coming season.
Vine & Craven Puppy Show 2017
Report from our Master Ms. Samantha Bracey MFH
I can't believe that another season has rushed past in a blink of an eye and the puppy show has been and gone. Firstly, a huge thank you to everyone in organising such a wonderful day.
The day started off with an amazing lunch hosted by the Mastership for all the puppy walkers. This is one our ways of thanking all the people who have looked after the Vine and Craven puppies. 
The day proceeds on with the judging of 2016 puppies. All our members, subscriber and supporters are invited to join us to watch the judging of the 2016 puppies. We have 2 judges looking at different aspects of each individual hound. Between the 2 judges they decide which dog hound and bitch hound would suit the job they are intended for. Then they have an overall champion.
Prize giving is the final part of judging all our wonderful puppy walkers get a silver spoon for each puppy they have walked. Followed by trophies to the walkers which puppies have won their classes.
To round the day off are wonderful hunt supporters, members and subscribers produce a wonderful tea, with cakes and sandwiches flowing
Again, a huge thanks to all involved what a wonderful day a part from the odd rain shower
Results...
Best Working Bitch - Dainty, sponsored by Pauline Welling
Most days hunted - Guardsman - Daphne Barr-Hamilton
Best Bitch - Adele walked by Jill Gent
Best Dog - Galway - Walked by Daphne Barr-Hamilton
Overall Champion for pups - Galway walked by - Daphne Barr-Hamilton
Tumblers Club - Nick McDiarmid
Addict 3rd, Garston 2nd and Galway 1st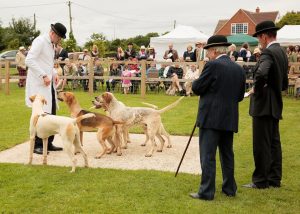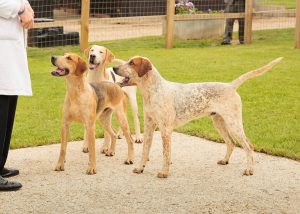 For the Championship .... Adele and Galway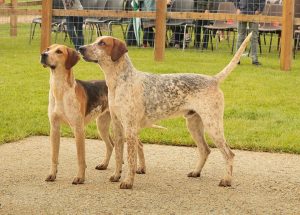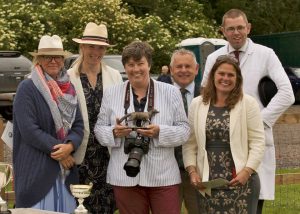 Emma Welling receiving her bronze fox for all her endeavours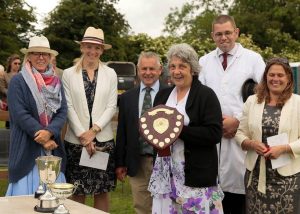 Daphne Barr-Hamilton receives the Championship Shield for Galway
Fantastic Gift
If you are looking for an original present a map of the Vine and Craven Hunt (see below) or a print of the Craven Hunt country (for details go to the Supporters Club section) would be an ideal choice.
Fabulous hand-drawn map of the Vine and Craven Hunt country drawn by the clever and talented Kirsty Adams. A must have present for everyone in the hunt.This beautiful map was inspired by the 16th and 17th Century maps of John Speed and Abraham Ortelius. It will be available for you to order at the Hunt Supporters' Club AGM and Start of Season Supper on Friday 27th Nov at a cost of £55, which includes the map mounted and ready for you to frame. All proceeds go to the Vine and Craven Hunt.