Welcome to The Vine and Craven Hunt Website
Up & Coming Events
VINE & CRAVEN POINT TO POINT - BARBURY RACECOURSE – SATURDAY 24 FEBRUARY – First Race Now
12.30
Clerk of the Course John White has reported after the 9.00am inspection that organisers are "cautiously optimistic" that racing will be able to go ahead, although he has decided to hold a further inspection at 11.00. While there was less frost overnight than expected, temperatures have not yet risen above zero.
Vine and Craven Point to Point  At BARBURY CASTLE RESCHEDULED FOR 24TH FEBRUARY 
Buy tickets on the gate..........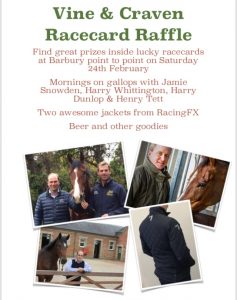 Secretary:Karen Hobbs 07824 443321   KarenHobbs@sportingagenda.co.uk
Save the Dates
Hip Flask evening 28th February at The Bell, Ramsbury
Bookings must be made by Friday 23rd February.   Contact
Jo McCall
V&CHSC Quiz Night on Friday 9th March at Stockcross Village Hall
7 for 7:30pm start, Ploughman's & Soup with first drink included. £15 per person (£10 under 16)
Highclere Ride 15th April      Highclere Ride Schedule 2018
VINE & CRAVEN OPEN CLAY SHOOT SUNDAY 22ND APRIL 2018
WOOLLEY DOWN, WANTAGE, OX12 8NH STARTS 10AM | LAST ROUND 2PM
---
Hound Sponsorships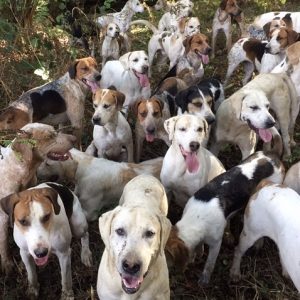 All 41 1/2 couple V&C hounds are now very happily sponsored. Thank you so much to everyone for your generous support with this fund-raiser. Let's hope your chosen hounds do very well for you this season. The first hound awards will be presented at the end of the month.
This season we will be running the monthly hound awards, judged by Dan Mellor MFH, the £25 draw and the Junior Hunt Club 'Know Your Hound Award' to be awarded on the last Saturday of each month. Good Luck to everyone with the chance of winning a rosette or £25
A huge thank you for supporting this important fund-raiser. We all enjoy our hunting for many reasons but we would not be able to continue without our hounds.
A message from Emma Welling
Vine & Craven Note-lets - packs of 10
Vine & Craven packs of 10 note-lets for just £5. two different photographs take by Emma Welling.
Perfect way to write your thank you's, so much nicer than an email.
Available through Joanna McCall Email: joanna@mccalldesign.co.uk or at meets etc.
Fantastic Gift
If you are looking for an original present a map of the Vine and Craven Hunt (see below) or a print of the Craven Hunt country (for details go to the Supporters Club section) would be an ideal choice.
Fabulous hand-drawn map of the Vine and Craven Hunt country drawn by the clever and talented Kirsty Adams. A must have present for everyone in the hunt.This beautiful map was inspired by the 16th and 17th Century maps of John Speed and Abraham Ortelius. It will be available for you to order at the Hunt Supporters' Club AGM and Start of Season Supper on Friday 27th Nov at a cost of £55, which includes the map mounted and ready for you to frame. All proceeds go to the Vine and Craven Hunt.
Spindletree Photography
Our very own Emma Welling has a website www.spindletreephotography.co.uk selling her wonderful photographs.
For more information see her advertisement in the 'Classified' section.