Welcome to The Vine and Craven Hunt Website
Forthcoming Events
---
*NEW POINT TO POINT FOR EARLY 2018-19 SEASON*
Vine & Craven at Barbury Race Course on Sunday 25th November 2018
Great day out for all the family.   Gates open 10.30am.  First Race 12 noon followed by the following 6 races at 35 min intervals (subject to divisions):
Race 1:                  2 ½ mile Young Horse Maiden
Race 2:                  Restricted
Race 3:                  Mixed Open
Race 4:                  Intermediate
Race 5:                  Conditions Race for horses who on or since 20.11.15 have not won under rules an Open Race, Steeplechase or Hurdles.
Race 6:                  3 mile Maiden
Followed by The Spirit of Hackwood Flat Scurry open to TB and non TB horses who have hunted with V & C.  No ponies.  Min age 16 yrs.  Memento and Rosette to winner of each category – will be run as 1 race. Entrants must not currently be racing under rules or point to point racing.  Entry by sponsorship £TBA  per horse.
Tickets will be available on line in the not too distant future at £10 per person.
---
---
Spindletree Photography
Our very own Emma Welling has a website www.spindletreephotography.co.uk  selling her wonderful photographs.
For more information see her advertisement in the 'Classified' section.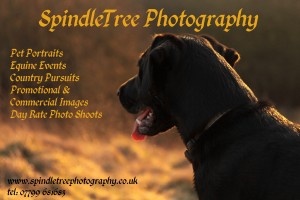 Vine & Craven 50th Anniversary Book
2018 marks the 50th Anniversary of the formation of the Vine & Craven Hunt and to mark the occasion a book has been produced containing reminisences of the last 50 years. It was officially launched at the Hunt Members AGM on July 30th and is now on general sale. The book is fully illustrated and extends to 60 pages. The price is £15, discounted to £10 to Hunt and Supporters Club Members if bought before the 2018 Opening Meet. The book will be available at all Hunt and Supporters Club events, Newbury Show and meets from Peter Inch. For postal copies please contact vchtreas@btinternet.com and add £2 to cover postage.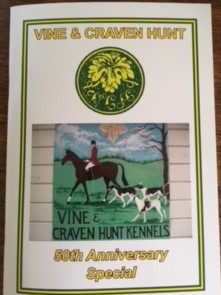 Vine & Craven Notelets - packs of 10
Vine & Craven packs of 10 notelets for just £5.   Two different photographs take by Emma Welling.
Perfect way to write your thank you's, so much nicer than an email.
Available through Joanna McCall Email: joanna@mccalldesign.co.uk or at meets etc.
Fantastic Gift
If you are looking for an original present  a map of the Vine and Craven Hunt (see below) or a print of the Craven Hunt country (for details go to the Supporters Club section) would be an ideal choice.
Fabulous hand-drawn map of the Vine and Craven Hunt country drawn by the clever and talented Kirsty Adams. A must have present for everyone in the hunt.This beautiful map was inspired by the 16th and 17th Century maps of John Speed and Abraham Ortelius. The price of £55 includes the map mounted and ready for you to frame. All proceeds go to the Vine and Craven Hunt.