The Vine & Craven Hunt and Silver Fox Gin presents the Silver Fox Online Horn Blowing Championship
HOT NEWS
Entries extended to 12th April. With additional prize of an Easter Hamper for those aged 16 years and under (on 12th April 2020) sponsored by RUNNING FOX EVENT CATERING
OPEN TO ALL!!
Judges: Mr Tony Holdsworth & Mr James Pearson
To enter simply post a video on this event page blowing the first calls:
GONE AWAY &
DOUBLING THE HORN
Each contestant must be in full camera view and any suspected pre-recordings will render the entry void at the judges' discretion. Please do not comment on individual video posts until the competition has ended.
An entry fee of £5.00 must be made via My Riding Life (see the link in the calendar under Vine & Craven Cross Country Rides 2020, below) otherwise your entry will be void.
Round one will end at 7.00pm on Sunday, April 12th 2020. The finalists from round one will be notified and will then be given further calls to post for round two. The length of the competition will depend on the number of entries made.
Champion Prize: A complimentary gift pack from Silver Fox Gin and a days hunting with breakfast for 2 and a tour of the Vine & Craven Kennels, including tea in Jimmy's Bar.
ALL PROFITS TO BE DIVIDED BETWEEN THE HUNT STAFF BENEFIT SOCIETY AND THE VINE AND CRAVEN HUNT.
PLEASE SHARE!!
Vine & Craven Cross Country Rides 2020
Coronavirus
We have decided that it will not be possible to run our Kingsclere Ride on 26th April, and this is now cancelled. It is unclear at the moment whether it will be possible to go ahead with any or all of our other cross country rides this summer. We are hoping to be able to find a safe way of running at least some of them, but obviously the situation is currently constantly changing, so we will have to wait and see how things develop. We will, of course, update this page as soon as any decision is made.
Thursday 26th March

Vine & Craven 50th Anniversary Book - Special Offer!
Special Offer on copies ordered by 30th April 2020 - £10 including postage. Please contact peterinch396@btinternet.com to place your order.
2018 marked the 50th Anniversary of the formation of the Vine & Craven Hunt and to mark the occasion a book has been produced containing reminisences of the last 50 years. It was officially launched at the Hunt Members AGM on in July 2018 and is now on general sale. The book is fully illustrated and extends to 60 pages. The price is £15. The book is available at all Hunt and Supporters Club events, Newbury Show and meets from Peter Inch. For postal copies please contact peterinch396@btinternet.com and add £2 to cover postage.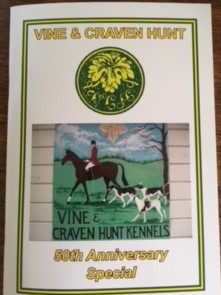 Spindletree Photography
Our very own Emma Welling has a website www.spindletreephotography.co.uk  selling her wonderful photographs.
For more information see her advertisement in the 'Classified' section.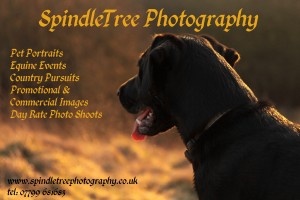 Vine & Craven Notelets - packs of 10
Vine & Craven packs of 10 notelets for just £5.   Two different photographs take by Emma Welling.
Perfect way to write your thank you's, so much nicer than an email.
Available through Joanna McCall Email: joanna@mccalldesign.co.uk or at meets etc.
Point-to-Point at Barbury Racecourse ABANDONED
Despite the organisers' best efforts, the postponed Vine & Craven Hunt point-to-point meeting at Barbury Racecourse has been officially abandoned.
The meeting firstly fell victim to high winds from Storm Ciara, before being rearranged for last Saturday only to be called off again after heavy rain in the week left the course inaccessible to emergency vehicles.
Fantastic Gift
If you are looking for an original present  a map of the Vine and Craven Hunt (see below) or a print of the Craven Hunt country (for details go to the Supporters Club section) would be an ideal choice.
Fabulous hand-drawn map of the Vine and Craven Hunt country drawn by the clever and talented Kirsty Adams. A must have present for everyone in the hunt.This beautiful map was inspired by the 16th and 17th Century maps of John Speed and Abraham Ortelius. The price of £55 includes the map mounted and ready for you to frame. All proceeds go to the Vine and Craven Hunt.