LJ Equestrian: new livery yard in North Waltham
25% off your first 2 months livery with us
LJ Equestrian is based in the lovely village of North Waltham. We are offering many types of livery such as part, full, hunter, schooling, selling and holiday livery. We provide a top class service where your horse will be looked after on a one to one basis and to the highest standard, all at very reasonable prices.
Please feel free to contact us for more information on 07795 844079 or 07548 799872.
Please visit our Facebook page, LJ Equestrian, and look out for events, clinics and special offers.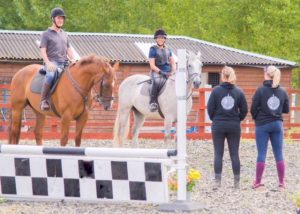 ---
New Livery Yard
Rare opportunity for full hunt livery available near Basingstoke.
Large stables with rubber matting and automatic water drinkers, small herd turnout all year round, secure tack room, floodlit sand school, solarium and hot horse shower.
Full livery to include all food, hay and bedding, exercise, clipping, turnout to an exceptionally high standard and transport to meets.
Right in the middle of the Vine & Craven, Hampshire, and Hursley Hambledon Hunt country.
Please message or call Laura Bradley on 07545 344875 for more details.